29 February 2012
Upon release of the documentary The Cheyeba affair. Duty of Justice today in Belgian theaters, Avocats Sans Frontières reemphasises the need for impartial justice in the Democratic Republic of the Congo.
[...]
---
---
6 February 2012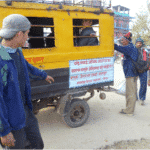 It is freezing cold this morning in Far Western Nepal. Gopi Parajuli (ASF) and Anita Neupane (Legal Aid and Consultancy Centre) try to find their way through the bus station. In a typically helpful and gentle manner, a passer-by asks them: "Are you looking for the lawyer's bus? There it is!"
[...]
---
---
6 February 2012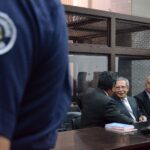 Avocats Sans Frontières is pleased with the prosecution of former Guatemalan ruler (1982-83), José Efraín Ríos Montt, an encouraging development in the fight against the impunity for international crimes.
[...]
---
---
---
---