Migration
5 March 2020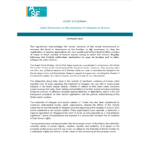 The signatories strongly condemn all violation of human rights of those seeking asylum in the European Union. On no account does the protection of the EU's external borders exempt EU Member States from their obligations under European law. None of the current Greek practices of suspending registration of asylum applications, pushing back refugees arriving from Turkey, deporting refugees back to their countries of origin or countries of transit where they will face continued persecution or containing refugees in overcrowded camps without access to basic needs and access to law, are compatible with international and European laws on human rights.
[...]
---
---
Today, ASF received an exceptional donation of €50,000 from the Belgian Development Cooperation. The Belgian Minister of Development Cooperation, Alexander De Croo, personally presented a cheque to ASF as part of the solidarity event "Music for Life".
[...]
---
---
20 June 2014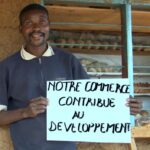 Bujumbura, Burundi – Do refugees contribute to the life and development of the country that receives them? For ASF, the answer is a clear yes. To mark World Refugee Day, ASF is launching an awareness-raising campaign in this regard in Burundi. This small African country, which is home to 50.000 refugees, is overflowing with fantastic stories of solidarity and hopes for the future.
[...]
---
---
---
publications
20 January 2022
---
---
29 December 2021
---
---
27 December 2021
---
---
---