The transitional justice process in Tunisia is part of a contextual framework that goes well beyond the fall of an authoritarian regime. The grave violations of human rights that were committed there were motivated above all by a desire to protect and guarantee the personal interests of a limited group who sought to monopolize the country's wealth to the detriment of its population. This policy led to the development of major inequalities between different categories of the population and between entire geographical zones, with the marginalization of some regions. This was especially made possible by the implementation of a centralized and authoritarian system, corrupted or based on favouritism. The demands in Tunisia are therefore not only related to violations of civil and political rights, but equally formulated in terms of respect for economic and social rights, the fight against corruption, and equal opportunities in the areas of economics and development. This particularity of the Tunisian context explains the necessity for a customized approach to transitional justice.

The Tunisian transitional justice framework is based on the institutional Law 2013-53 adopted by the Constituent Assembly of Tunisia on December 15, 2013. This law establishes a set of mechanisms to determine the truth about human rights violations committed between 1953 to 2013, beginning with the Truth and Dignity Commission, responsible for shedding light on these violations and developing a comprehensive program of compensation. The Commission is also competent to transfer the files of those accused of such violations to specialized chambers, who are then responsible for investigating and prosecuting these individuals.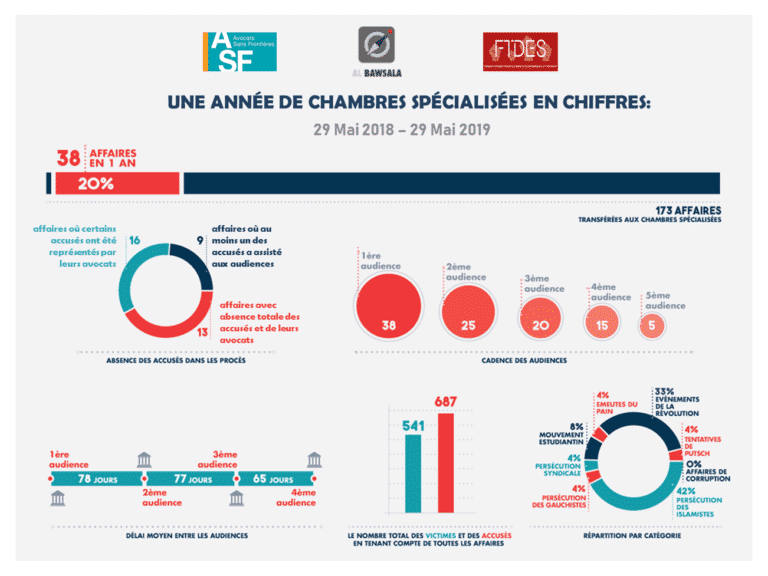 The TDC completed its mandate on 31 December 2018, after four years of investigation that included the submission of 62,720 cases and the examination of 49,654 persons. On 2 March 2018, the Commission transferred its first representative case, the Kamel Matmati case, to the specialized chambers. It has since transferred more than 180 cases to the 13 chambers located throughout the Tunisian territory.
As part of the project "La Roujou3" or "Never again", Avocats Sans Frontières has put in place a monitoring strategy consisting of a pool of 16 lawyers selected and trained to ensure the proper application of fair trial principles. Continue reading "Tunisie"