Washington DC/Brussels, 29 April 2016 – During an event on access to justice and international development on April 25, Avocats Sans Frontières (ASF) highlighted the need to integrate impact indicators and empirical findings into access to justice programmes and go beyond the Sustainable Development Goals framework. This convening was organised jointly with the American University Washington College of Law Center for Human Rights & Humanitarian Law. It brought together key academic, policy and operational actors, who offered their insights on this critical issue.
Promoting Rule of Law and ensuring access to justice for all is one of the innovations expanding the scope of the Sustainable Development Goals (SDGs) in relation with the Millennium Development Goals. For development and legal actors, this evolution is not surprising: justice and rule of law effectiveness have emerged as central components for development in post conflict contexts for the past decades. The UN and several states are now developing the framework and the indicators to measure progress toward SDGs. Yet, integrating access to justice into the development agenda is challenging. "
Access to courts and justice institutions doesn't systematically make a difference for people living in poverty, in terms of access to remedies
", ASF researcher Julien Moriceau said at the convening. Developing common indicators to measure access to justice activities (i.e. number of legal aid cases) is not sufficient. Legal and development actors should also address the challenge of showing the concrete impact of access to justice for the population, as a contribution to poverty reduction, conflict resolution and prevention.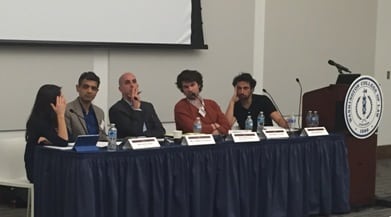 Another challenge is the development of impact research and the dissemination of results to improve development aid programmes. Actors from different backgrounds and sectors – legal, development economy, social sciences – should therefore work together and define common goals and milestones. Tackling these challenges is the aim of
ASF's research project
which key results have been shared and discussed at the convening. Julien Moriceau and Edinburgh University lecturer Jean-Benoît Falisse shared results from an impact evaluation on a legal aid programme implemented in Burundi between 2011 and 2014. Other high level experts invited by ASF and the WCL Centre for Human Rights shared their views and experiences with a targeted audience of academics, experts and lawyers. Bilal Siddiqi and Paul Prettitore presented research and programmatic perspectives of impact measurement at the World Bank, based on case studies from Liberia, Sierra Leone and Jordan. Currently based in Myanmar, ASF Senior capacity building expert Jake Stevens highlighted the need for more baselines and impact assessment in order to maximize impact of access to justice initiatives. For Macarena Saez, Director of the WCL Centre for Human Rights, "
challenges related to access to justice are not only a question of means. In many situations, people living in poverty cannot access justice due to the lack of respect from legal actors
." Other speakers included American Bar Association Rule of Law Initiative director Elizabeth Andersen,U.S. Department of Justice's Office for Access to Justice Deputy Director Maha Jweied, and Open Society Justice Initiative Senior Legal Officer Martin Schoenteich. This convening is the first of a series of events organised by ASF in 2016 with the aim of breaking the fences between development and access to justice, addressing related challenges and disseminating impact research results. For both ASF and the WCL Centre for Human Rights, this first collaboration was a success. "
It was great for us to organise this event and host all those experts. We would be delighted to organise such an event with ASF in April 2017
", Macarena Saez said.
Coverpicture © ASF/V. Dumoulin, 2008
Continue reading

"Breaking fences between access to justice and development"