April 27, 2011
From the Brussels Bar to a tribunal in Haifa
NewsPro bono
Ms Maryse Alié is a lawyer at the Brussels Bar and a member of ASF's International Legal Network. In this capacity, she has participated in several missions of judicial observation of the emblematic trial of "Rachel Corrie" in Haifa (Israel), and hosted training sessions in Burundi on the role of lawyers in the prevention of the crime of torture.
Ms Alié, what motivated you to get involved in ASF's International Legal Network?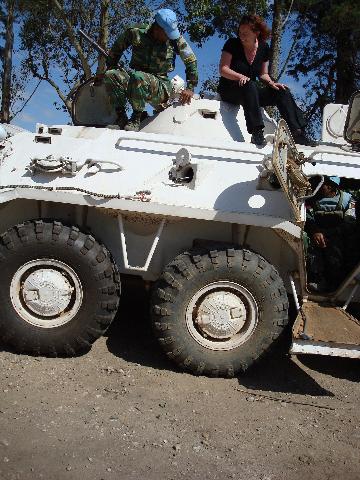 After my legal studies, I was able to obtain a masters degree in overseas development, choosing the comparative law option, and a masters in human rights. I then worked for various international organisations, including several years at the Office of the High Commissioner for Human Rights in Cambodia and the International Criminal Court. As a lawyer in Brussels, it seemed natural to me to put my efforts into working with Avocats Sans Frontières and to respond to the request that I join the ILN.
Concretely, what have your interventions consisted of?
The training in Burundi was a project developed with several colleagues from Brussels and consisted of a seminar lasting several days, based on the sharing of experiences with a group of Congolese, Rwandan and Burundian lawyers assembled for the occasion in Bujumbura. The objective was to improve the work of these lawyers on the torture cases entrusted to them by ASF in their respective countries. We have thus developed modes of activity and case studies including a reflective work in relation to components of acts of torture, the drafting of complaints, the development of conclusions, defence strategies, the preparation of a statement of claim, etc.
As for the trial Rachel Corrie v The Israeli Defence Ministry, my work is about ensuring  judicial observation of the trial in court before the district of Haifa's tribunal either through missions or monitoring from a distance. I am collaborating with an Irish legal expert who specialises in problems related to human rights in the Israeli-Palestinian context.
Obviously, our work involves legal analysis and drafting detailed reports for the benefit of ASF. This intervention, although complex and delicate, is particularly interesting given the stakes of the trial and the issues of rights it implies.
What have you learnt from these experiences?
A tremendous amount! It is above all the human experiences that allow me to meet other colleagues, both in Brussels and in the field, without counting the very dynamic staff of ASF! Even if the challenges are always at meetings, (or perhaps thanks to them), working in the context of international exchanges is obviously enriching. Among other positive aspects, one can cite: the clash between the different judicial systems, the sharing of experiences, cultures and projects, as well as the many difficulties and barriers to overcome…without counting the moments of humour.
Of course, it is necessary to avoid alldroit-de-l'hommisme or a neo-colonialist attitude and it is best not to be naïve: it is a work which is only a drop in the ocean…but the commitment is worth it!
Is your commitment to the ILN compatible with your professional practice as a lawyer in Belgium?
Yes, absolutely! Certainly, adjustments are necessary for hearings, but the missions are generally quite short which does not create great organisational difficulties. Furthermore, part of the work can be done in Brussels (factual and legal research, analysis, drafting of reports etc.)…and if leaving on missions might be complicated for some colleagues, it is always possible to commit to activities which do not necessitate going abroad.
For more information on ASF's International Legal Network