October 7, 2021
Legal clinics to support access to justice during pandemic
MoroccoAccess to justice and developmentCOVID-19NewsSexual violenceWomen's rights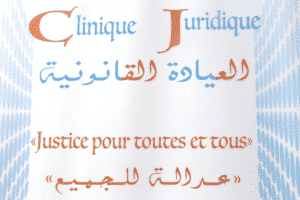 Throughout the world, the pandemic has pushed people further away from access to justice. In Morocco, ASF has been relying for several years on legal clinics, set up in universities, to promote access to justice, particularly for people in vulnerable situations. Under the supervision of teachers and legal professionals, students provide legal services to the population.
During the pandemic, these structures enabled ASF and its partners to maintain the link with justice seekers, and in particular with one of their main target groups: women victims of violence. One of the perverse effects of the measures imposed to contain the spread of the virus was the consequent increase in reports of domestic violence. The limitation of movement and the closure of certain administrative services deprived victims of domestic violence of the usual care systems.
In response, the legal clinic continued to provide legal advice and guidance via telephone consultations and the What's app. By taking into account the habits of the beneficiaries, ASF was able to maintain contact with the women victims of violence in order to accompany them during the pandemic.
The Covid-19 crisis also presented a challenge to the organisation of legal clinics. Access to prisons and protection centres, but also access to the legal clinics' facilities was limited. To address those issues, four lawyers provided a service via different digital platforms (Zoom and Whatsapp) to receive calls from justice seekers and respond to their needs for legal advice and guidance.
The online coaching and capacity-building sessions for students were a real success. Despite some initial difficulties in adapting, the students, supported by lawyers, were able to receive complaints and provide guidance to the victims.
The legal clinics also organised mock trials via zoom, in order to prepare students for the digitalisation of the judicial penal chain (and in particular for remote trials). This activity allowed ASF to anticipate the future challenges linked to those transformations.