May 31, 2012
ASF calls upon Flemish lawyers for support
NewsSupport ASF
Avocats Sans Frontières (ASF) actively participated in the 2012 Flemish Lawyer's Day,which was held May 11th in Kortrijk. The event, which targeted lawyers in Flanders, was the perfect opportunity to better communicate the activities of ASF. The lawyers were also called upon to support action in favor of more accessible justice to the most vulnerable people in the Global South.
ASF was created exactly 20 years ago by a group of Belgian and international lawyers.  Therefore, it made sense that the NGO decided to address its "historic" audience at the Lawyer's Daywhere the central theme was "lawyer: a borderless profession."
After the day officially began, ASF was introduced to around 190 lawyers by Mr. Patrick Berben, former president of the bar of Hasselt.  "I think every lawyer should become a member of ASF," he declared, before giving the floor to Chantal Van Cutsem, ASF coordinator for the Great Lakes region.  The speech began by demystifying ASF.  "With 130 workers in a dozen countries, we aim to make a lasting impact on the justice system," she explained; she proceeded by outlining the central role lawyers can have within the work of the NGO.  "If the lawyer is at times the victim, he is also the creator of growth, the defendant, or even the creator of rights."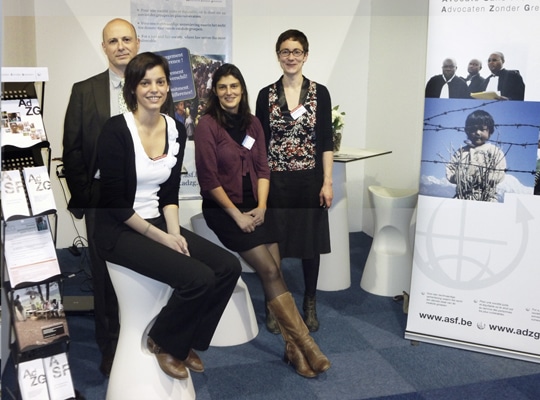 After this presentation, lawyers visited the ASF stand, where they could meet members of the team.  The stand was offered by the organization of the Flemish Bar to support ASF. "I was aware of ASF, but I did not know exactly what they did," said a lawyer from Brugge.  "I would like to become a member of your organization," said another lawyer from Ieper.
The presence of ASF on this day provided a more personal setting to inform lawyers on the actual work of the NGO.  "Each donation, small or large, counts.  They are what allow us to work independently and to help with meeting the needs for justice.  We look forward to returning to the next Lawyer's Day," concluded Chantal Van Cutsem.