July 12, 2012
ASF awareness campaign: "Open your eyes to injustice"
NewsSupport ASF
Brussels, June 16, 2012 – Avocats Sans Frontières (ASF) is launching an awareness campaign on the need to support justice in post-conflict and developing countries. With the slogan "Open your eyes to injustice," ASF and their campaign serve as a reminder that justice is not only a prerequisite for consolidating peace and fighting poverty, but that respect for human rights is crucial in the everyday life of vulnerable populations.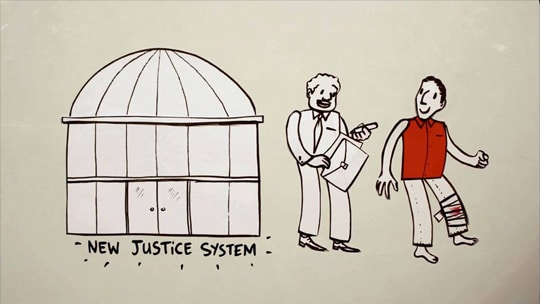 The establishment of the rule of law is essential for lasting peace and socio-economic development. This idea is representative of the NGO's work, which celebrates its twentieth anniversary this year. "Without justice, there is no peace. And without peace, there is no access to food, water, health or education," says Francesca Boniotti, executive director of ASF. "An independent judiciary is crucial in the fundamental rights of everyone. For the most vulnerable people, it is often a matter of survival. "
This campaign aims to raise awareness in Belgium about the need to support efforts in many developing countries and countries emerging from recent conflict for a more impartial and independent justice. Every day, the rights of vulnerable people such as abused women and minors – child soldiers or those imprisoned with no one to defend them, as well as victims of crimes against humanity or torture, must be defended.
"Through this campaign, we want to remind everyone that justice must be accessible to all. This is an absolutely essential requirement and factor for development, "says Francesca Boniotti. Presented in the form of animated short-films, the stories of Thulesa, Joseph, John and Saber are narrated by members of the ASF teams and are now available on the new ASF website. The campaign is also supported by the publication of advertisements and web banners in the daily Francophone publications, La Libre Belgique and La Dernière Heure.
The ASF campaign, "Open your eyes to injustice" was done with the support of partners (Régie Générale de Publicité, Earthview and E-Frame).