January 20, 2012
Burundian lawyers honour ASF with award
BurundiLegal aidNews
Bujumbura, 20 January 2012 –  The  Bar, on the day of its 62nd anniversary, has awarded Avocats Sans Frontières (ASF) an "honorary diploma". This distinction recognises the work that ASF has been carrying out for more than 10 years towards improving access to justice for those most vulnerable in Burundi.
The Solicitor General Isidore Rufyikiri, who presides over the Bar near the Court of Appeal of Bujumbura, has awarded ASF the "honorary diploma for its involvement in and contribution to the development of the Bar". This event took place in the presence of high representatives of the legal community as well as those from Belgium, France and the European Union (EU).
Active in Burundi since 1999, ASF develops the professional capacities of lawyers and reinforces the Bar's work by means of a partnership. Fanny Cachat, ASF Support Programme Officer in Burundi, delightedly declared, "the honour which has been given to us today is encouraging. Our action aims at sustaining daily justice".
"To be a lawyer, it is not (only) about making money" reminded Mr. Rufyikiri, talking about the lawyers's involvement in providing legal assistance for vulnerable people. Supported by ASF, the Bar in 2011 took over an aid centre situated in a deprived area of Bujumbura, where those most vulnerable can benefit from free legal advice. In one year, thanks to the centre, more than 600 people – essentially women and minors – have found a solution to their legal problems. A part of this group has further been able to benefit from the free services of a lawyer before the courts.
ASF's action has also a national dimension. Thanks to the partnership established with the Bar, all those working within the legal aid sector in Burundi – the Bar, local NGOs, Ministries and universities – will be proposing a legal aid strategy to the government in the next few months.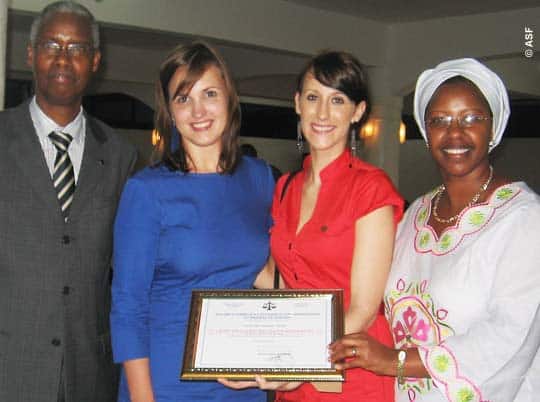 In his speech, the Solicitor General has invoked the arrest and imprisonment of lawyers last year, and has launched a call for supporting the protection of human rights defenders and lawyers in danger. ASF, who has denounced these events, promotes the protection of lawyers and the independence of magistrates. Among the others awarded that evening was also the lawyer Francois Nyamoya, who is still detained in the central prison of Mpimba.