November 5, 2018
Chad: the many faces of justice (1/4)
ChadHuman rights defendersLegal aidNews
N'Djamena, 5 November 2018 – This autumn, ASF presents a portrait of justice in Chad, through interviews with four people who are active in defending human rights in the country.

This week, Doumra Manassé shares his vision of the role of lawyers and their place in society in Chad

. "People see us as civil servants or as traders. We are neither." Doumra Manassé (age 39) is a lawyer. He grew up in Bebalem, in the south of the country, before moving to N'Djamena, where he still works today, to start studying law. A hell of a challenge! Manassé: It took 10 years for me to finish my studies and obtain a Master's in private law. An academic year here can last up to 20 months, due to the many strikes by teachers demanding that their salaries be paid. The system for marking students is itself often arbitrary. A student who comes from the same region as their teacher, for example, will receive better marks than another one.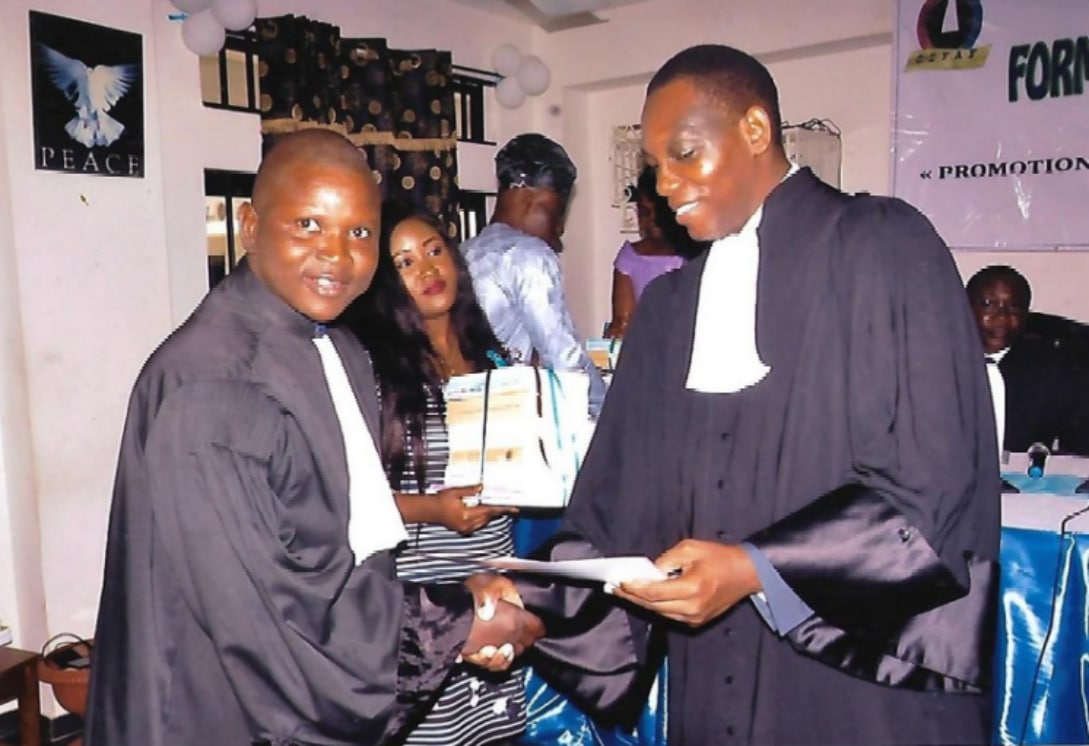 Once you have qualified, how do you become a lawyer? Manassé: There is no competition to become a lawyer; people often use their connections. I didn't need any myself: I was able to land an internship in the office of Mahamat Hassan Abakarn. He is the lawyer who headed the Commission set up to investigate the 40,000 killings committed under the Hissène Habré regime, which led to a referral to the Extraordinary African Chambers. I also was also able to take the oath barely five months after starting my internship, when some people can wait for up to five years. How do the people perceive lawyers? Manassé: There is still a widespread lack of knowledge about what lawyers do.

People see us as civil servants or as traders. We are neither.

Even some judges don't understand our role! Just recently, an examining judge kicked me out when I was assisting a client. When I called a bailiff to say that I was being prevented from doing my work, the judge allowed me to remain present "on condition that I stay silent until the end of the hearing." How would you describe the way justice operates in general? Manassé: Justice as an institution in this country is in disarray. In N'Djamena, for example, there is no proper courts building. The high court, the public prosecutor, etc. are housed in buildings that were intended to accommodate the members of the petroleum monitoring body. The premises are cramped, hot, and dark. Everything is done to ensure that you can't think. Some judges are untrained and cause disruption in the justice system. Many are not sovereign and independent. The administration intrudes and interferes. Some judges will use their influence to win cases. In 2013, the legislature made it possible for the Ministry of Justice to petition the Supreme Court in the interest of the law, with no possibility of appeal. This is clearly illegal. The creation of a state based on the rule of law is essential for the development of Chad. What are the day-to-day challenges you encounter when carrying out your work? Manassé: I encounter a lot of resistance from people who are supposed to help me in my work, such as police officers and governors. Corruption is also a problem; I have often been pressured and even threatened to drop cases. Cases of lawyers being attacked, for example by the family of the opposing party, are not uncommon. I myself was almost killed in Doba, and nearly abducted from my home. From the moment you try to tell the truth and defend people's rights, things are extremely difficult. Access to certain places is another challenge. One of my clients, for example, was arrested by the intelligence services. I was unable to meet with him because I didn't have the authorisation needed to enter the centre where he was held for a month without food. I had to threaten to involve international organisations to have my client freed. He had lost a lot of weight. There are also financial considerations: the majority of people in Chad do not have the means to pay a lawyer. Sometimes I have to jump through hoops to make ends meet and feed my family. What gives you the courage to continue? Manassé: The desire, which has always driven me, to defend the many people who have been victims of injustices in my country. Take Jacques Vergès [the French lawyer who defended the Nazi Klaus Barbie, among others, Editor's note]. Many people here don't understand how we can defend certain people. But the right of every person to be defended is sacred, as is the presumption of innocence until a judgement has been pronounced. Is a lawyer a defender of human rights? Manassé: Without a doubt! In fact, it's our main role. When human rights violations occur, lawyers should be the first to stand up and say no to infractions. We are participating in the construction of the state based on the rule of law and of democracy. ****
An interview carried out by Victor Odent, ASF Country Director in Chad.
Coming up: – Interview with Delphine Djiraibe, President of the Public Interest Law Centre. – Interview with Pyrrhus Banadji Boguel, President of the Collectif des Associations de Défense des Droits de l'Homme in Chad. – Interview with Guerimbaye Midaye, Honorary President of the Ligue Tchadienne des Droits de l'Homme.
Photo: Doumra Manassé