June 13, 2013
Flemish lawyers run for ASF
NewsSupport ASF
Brussels – On 9 June 2013, the Flemish Bar Association held its annual Lawyers' Run at the gardens of the Colonial Palace in Tervuren, near Brussels. Around 450 lawyers and their families gathered at this beautiful location to take part in the run. For everyone who registered, the Flemish Bar Association donated two euros to Avocats Sans Frontières (ASF). During the event, ASF was represented with an information booth to explain its activities to interested parties.
"The Flemish Bar Association has been supporting ASF for many years," says Chairman Eddy Boydens. "We provide financial support and try to raise awareness of ASF among Flemish lawyers through our newsletter and our activities. The Lawyers' Run is therefore a good opportunity to sensitize lawyers for ASF in a different setting."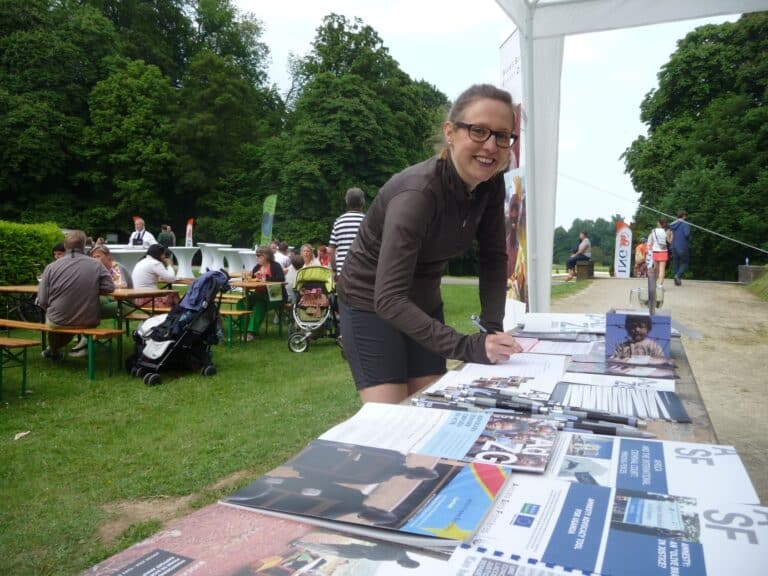 The Flemish Bar Association (Orde van Vlaamse Balies – OVB) has helped ASF by donating two euros for every participant. Due to the large turnout, ASF will receive a healthy contribution to help support its projects. "But it's not so much about the financial support. The OVB also wants to raise awareness among lawyers of the human rights situation and access to justice issues in fragile countries," explains Eddy Boydens. The ASF information booth at the event provided the opportunity for anyone interested to find out more about the organisation and its projects.
Francesca Boniotti, Director General of ASF: "We greatly appreciate the participation of the OVB in the social debate and its active contribution to improving access to justice for those who need it." Boydens adds: "Their rightful interests, such as proper legal assistance and the independence of the legal profession, must be defended. This shouldn't be available only in Belgium, but around the world too. And that is why we support ASF."
Through the support of the Flemish Bar Association, 10,000 Flemish lawyers are in fact contributing to ASF. This way, they all add to the important duty that lawyers around the world have, says Eddy Boydens. "They have to ensure the realisation of people's rights."
Cover picture: Eddy Boydens, Chairman of the Flemish Bar Association, and Francesca Boniotti, Director General of ASF © ASF