May 29, 2013
Access to justice can help reduce poverty
News
Brussels, 29 May 2013 – With the two years left until the deadline for achieving the Millennium Development Goals, Avocats Sans Frontières (ASF) calls for further integration of access to justice in the fight against extreme poverty. This would enable the world's most marginalised individuals to realise their human rights and break the cycle of injustice and poverty.
With 2013 marking the twentieth anniversary of the International Day for the Eradication of Poverty, ASF notes that access to independent, impartial and high-quality justice remains a major challenge for the most marginalised people in society. The civilian populations of countries in post-conflict or fragile situations often suffer from the wholesale violation of their human rights, a lack of security, and extreme poverty.
"Without access to justice, persons living in poverty are unable to claim their rights, or challenge crimes, abuses or violations committed against them, trapping them in a cycle of impunity, deprivation and exclusion", said Magdalena Sepúlveda, United Nations Special Rapporteur on Extreme Poverty and Human Rights, at the ASF conference organised in Brussels on 22 May 2013. During the debate, which gathered various representatives of the international community, Deputy Minister of Justice of South Africa Andries Nel Carl confirmed that the rule of law can contribute to breaking this cycle through legal transparency, participation of citizens in decision making, and the fight against arbitrariness.
"Access to justice is a fundamental right in itself which States have the obligation to guarantee", insisted Klaus Rudischhauser, Deputy General Director of EuropAid (European Commission). "It is also an essential prerequisite for the protection and promotion of all other civil, economic, political and social rights".
Access to justice should be included in poverty reduction public policies. Civil society organisations, the private sector and institutional donors have each a role to play. "This is why we advocate for the involvement of all the actors committed to the development of the justice and rule of law in the national and international strategies combating poverty", stated ASF Executive Director Francesca Boniotti.
"The MDGS are not a perfect instrument but they have the merit of highlighting the priorities to be held", said Olivier De Schutter, United Nations Special Rapporteur on the Right to Food, in his speech closing the ASF Conference. "In this perspective, pleading for the inclusion of access to justice in the new post-2015 objectives is of utmost urgency".
More information about the conference How access to justice can help reduce poverty organised by Avocats Sans Frontières, 22 May 2013, Brussels: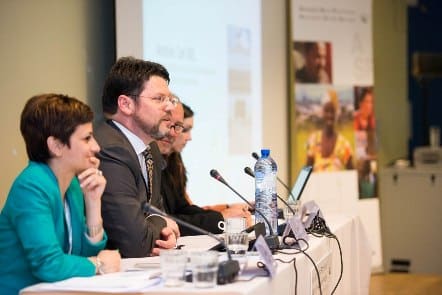 Cover picture: woman in refugee camp (Burundi) © ASF/S.Degée