February 17, 2015
Rule of Law Education Leading to Social Justice in Myanmar
MyanmarCapacity buildingNews
Lashio, Shan State, Myanmar, 17 February 2015 – The need for justice education in a country just emerging from more than 50 years of military dictatorship is undoubted. "Rule of law" is a prevalent but rarely understood term here. ASF trainers and other partners provide training in the framework of a UNDP-funded Rule of Law Centre Pilot Project.
"How is this going to be sustainable?" asked Ji Mai (picture) at the first team meeting of the Project in Lashio, a multi-ethnic city in Northeastern Myanmar, not far from the Chinese border. As a Kachin ethnic group community activist and now the Project Administrator, she appreciated the work that ASF trainers Jake Stevens and Helen Yandell, volunteering law professionals from all over the world and other international and Myanmar national partners had put into the three-month long curriculum that integrated rule of law principles, Myanmar law, and skills development. But she wanted to make sure that the curriculum, and the related community forums aimed at identifying relevant legal issues, would lead to substantive change.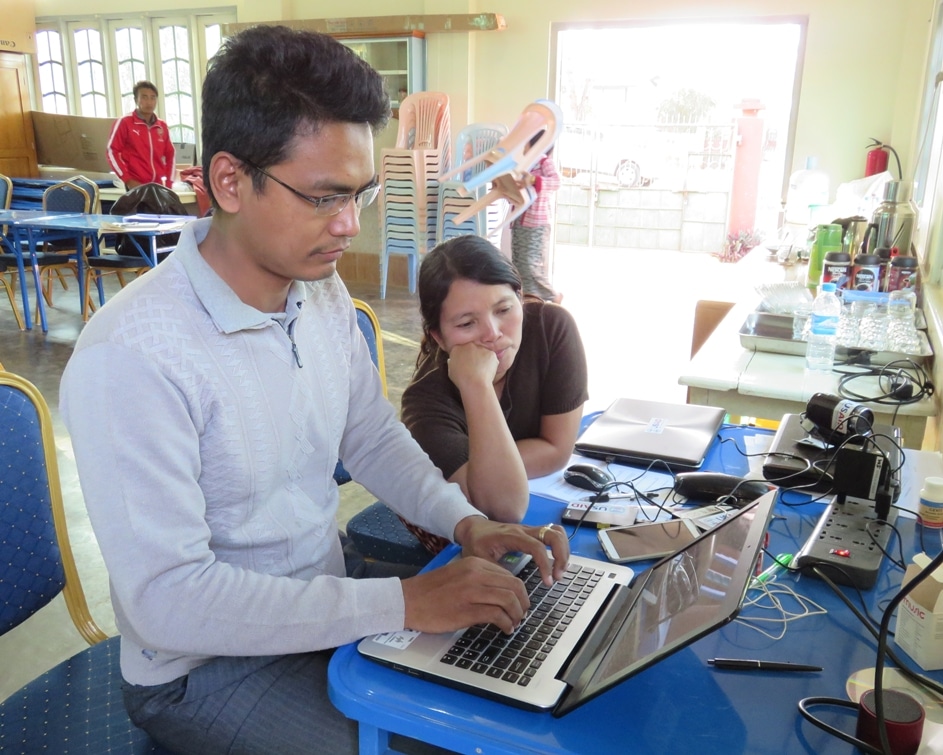 Since then the approximately 80 lawyers and civil society representatives, in Lashio and in the much larger city of Mandalay, have grappled with this and other questions. The interactive methodologies of the workshop are designed to engage the participants in the content, but also to develop their analytical abilities. This was initially challenging for all concerned, due to the poor quality of the Myanmar education system and the legacy of 50 years of military rule. Project Manager Soe Moe Kyaw (picture), a former HIV educator, remarked that, "We are only used to listening to lectures. Asking and answering questions can seem very aggressive to us." But many participants report an interest in incorporating the methodologies in their own work, be it civil society trainings or mentoring new lawyers. They also expressed great appreciation for the content, such as Alternative Dispute Resolution, Equality Before the Law, and Mock Trial.
In the workshops, the public forums and during project outreach meetings, many express a wish to move beyond internal community organizing and to engage governmental actors. Sai Kyaw Tun, from Meikswe Myanmar (a health and education civil society organization), remarked, "we must have more workshops like these in other communities so that people understand their rights. But we must also have joint forums with police, judges and governmental officials so that we understand each other better." Similarly leaders of local LGBT organizations requested help designing strategies that would inform the public and the government of their concerns without triggering another police crack-down on their members. As initially planned the workshops were to include those governmental actors in the pilot, and there is hope that they will join in future iterations.
The current Rule of Law Project is actually two related and complementary activities: the 3-month long 42 session workshop series and open-ended community forums. In Lashio the forum topics  include combatting discrimination, expanding community legal education, and addressing drug addiction. The synergy between the two pillars of the project has been obvious. Participants are taking their new-found skill and knowledge into their communities and workplaces to apply Rule of Law Principles in everyday life at this crucial time in the development of Myanmar.
Coverpicture: ASF consultants and other partners provide training in the framework of a UNDP-funded Rule of Law Workshop Project © Jake Stevens