May 15, 2015
No legal existence equals no rights for Congolese citizens
Congo (the Democratic Republic of the)Children's rightsLegal aidNews
Lubero, DR Congo, 15 May 2015 – Registration of births – and marriages – is vital for the establishment of citizens' rights. This is the message that was shared by Avocats Sans Frontières and its partners with more than 6,000 people living in Lubero, North Kivu.
Congolese citizens regularly experience serious violations of their fundamental rights. "Children are particularly vulnerable", explains Jules Rhuhunemungu, ASF Programme Coordinator. "Many births are not registered within the period specified by law (90 days). So, officially, these children do not exist and are not entitled to a nationality, basic healthcare, an education, to inherit from their parents and so on". Also, women whose marriages are not registered cannot inherit from their husbands.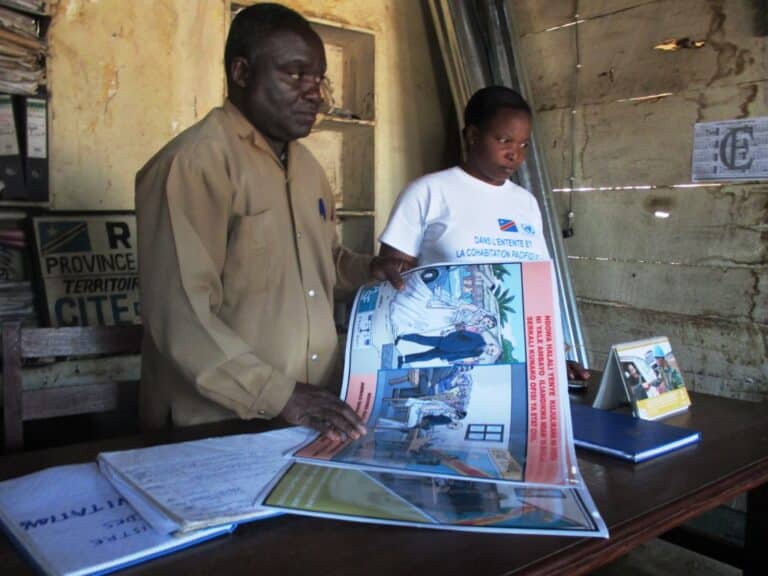 ASF and its partners* recently organised a campaign to raise public awareness of these issues in Lubero, North Kivu. More than 6,000 people, mostly women, were informed of their rights and were able to participate in 400 free legal consultations provided by lawyers from the Goma bar association, resulting in 57 babies under 3 months old being issued with birth certificates. The campaign culminated in a session of the Lubero magistrate's court, at which several families filed requests to regularise the situation of 50 children whose births were not registered within the 90-day period. "This familiarised people with the procedure to be followed if children, or even teenagers and young adults, have not been registered within the specified period", reports Jules Rhuhunemungu with satisfaction.
"It's the first time I've seen lawyers offering consultations without asking for money!", laughed one of the mothers attending. "The awareness-raising campaign was amazing because it let people know they could be given birth certificates for their children without paying a penny", her neighbour added. This kind of activity – allowing people access to a lawyer and to obtain information about their rights – is in high demand. Another session is planned in Masisi later this month.
The local people weren't the only ones to benefit from the campaign: Lubero register office was also given a new lease of life. A brand new register, sent to Lubero in 2014 by the Department of the Interior, was used for the first time. The registrar had not been using it, even though children were being born every day.
* ASF's partners in this awareness-raising campaign around the need to register births and marriages are: North Kivu Provincial Department of the Interior, the Goma bar association and the Congolese organisation SODPAD.
Part of the "Uhaki Safi" ("fair justice" in Swahili) programme, supported by the European Union and contributions from Belgium and Sweden.
Pictures © ASF Access to Justice team in Goma