March 15, 2020
Partners' profiles 4/4 : The Networks of Observers
Congo (the Democratic Republic of the)Business & human rightsCapacity buildingNews
Avocats Sans Frontières, active in the Democratic Republic of Congo since 2002, would not be able to act without its partners. It is for this reason that, today, we wanted to give voice to them. These men and women told us about their everyday life, their realities and their convictions. Through a series of profiles, you can meet these figures who represent the Diocesan Commission for Justice and Peace in Boma, the Congolese League against Corruption and the Networks of Observers.

They are all working on the project, "Putting the interests of local populations at the heart of natural resource management: transparency, accountability and protection of rights," in the province of Kongo Central and, more specifically, in the coastal zone of Muanda (more information here).
Thanks to this project, ASF has helped create and revitalise networks of observers. They are independent of ASF, they exist and are managed autonomously by their members. ASF and these networks work together to empower populations impacted by the activities of extractive companies.
These networks are made up of representatives of villages/communities nominated by the communities because they are particularly committed and voluntary. Their goal is to ensure the participation of local populations in natural resource management processes and to ensure that the activities and/or processes are transparent and respectful of human rights. To achieve these objectives, the members of the network continuously monitor, collect and document the potential cases of corrupt practices and various violations perpetrated by private and/or public actors involved in the exploitation of natural resources within their villages. Based on collected, proven and verified data, network members engage in processes of dialogue and consultation with the local authorities, representatives of the concerned populations and the bearers of responsibility with a view of promoting participatory governance in the management of natural resources.
Today, we will meet members of the networks in the region of Muanda. We asked them all the same question: Can you introduce yourself in a few words and explain to us why you are part of a network of observers?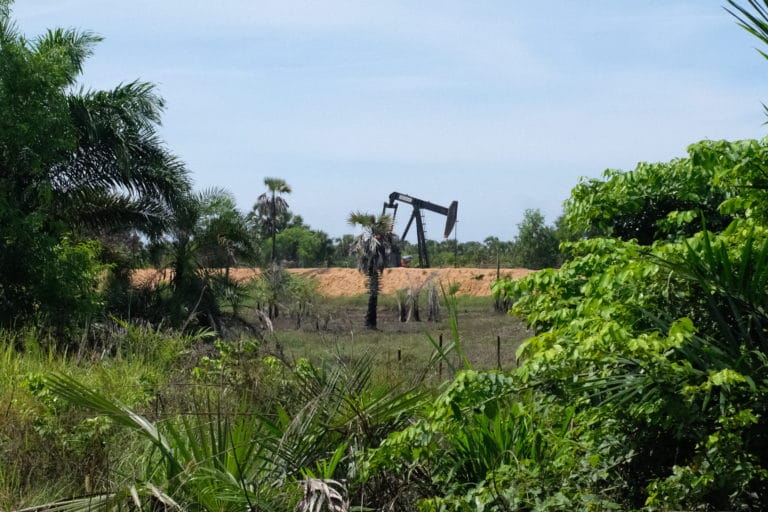 Jeanne* : I am involved for the girls and mothers of my village.
I live in the village of Muanda. I run a business and I work with "tidewomen," women who live with the tide, who process the caught fish. In my cooperative, I employ 3 men and 28 women. We make fresh fish, salted fish and smoked fish… It's hard to be a woman and to be the head of a business, you need to change your way of working and adapt a lot. We have a lot of problems in the domain of the processing of fishery products. We don't really have a selling point, sometimes we work and it is impossible to sell, and since we don't have the means to conserve, well…it is hard. But it is very important that women become strong and run businesses.
Today, in Congo, mothers are not considered, whereas all of us, women, should be involved everywhere, in villages, in societies, in gatherings, it is important. And that is why I accepted to become an observer in my network when the traditional leaders suggested me. I chose to defend the interest of my community, and especially those of all the girls and mothers.
François* : I am involved for the fishers.
Fishing used to be the most accessible occupation. Our communities still live mainly from agriculture and fishing today. We practice artisanal fishing, in small boats, with rods and nets. But fishing is becoming increasingly harder… Sometimes, companies' boats damage our nets whilst they are sailing. Even if we try to report these incidents the delays are endless and, in the meantime, people can't fish anymore because there is a cost to repair the equipment. Moreover, even when we receive the financial compensations, the money goes through a very complicated system. There are gaps in this system and money often disappears between the initial transfer and us receiving it.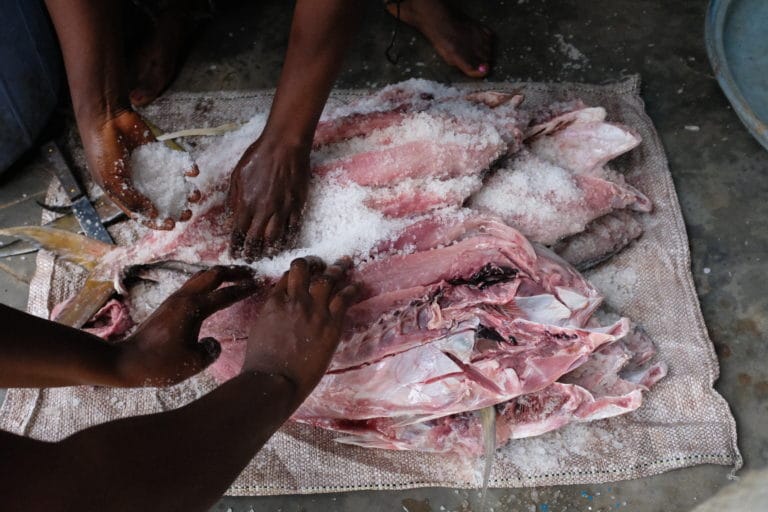 Another problem is the security zones. The companies who exploit the natural resources of the sea have marked out in which we are no longer allowed to enter or fish. Except there were species that we used to fish in these zones, and since we no longer have access, we have to go further into the ocean. This means the risks and costs are higher because the waves are stronger, and we need to pay for stronger boats. Sometimes there are dead fish in our nets and the water does not smell good. And I could also talk about the problems with foreign boats that come to fish in large quantities and which deplete all of the fish… So, as I am part of the fishing cooperative, I agreed to represent my village in the network, so that I could help the villagers continue to make a living from their activities, especially the fishermen.
Dominique* : I am involved for our future, for our land.
I've witnessed a lot, and that's why I immediately agreed to be part of my village network when I was elected. I can give you an example. In the past, flares – systems for burning the gases released during the extraction of crude oil – were large pipes that went into the sky and burned all the time. Today, flares are at ground level, or even below, since they are installed in deliberately dug holes. The problem is that, when it rains, the holes fill up with water and the water will extinguish the burning gas. Then this gas will dissolve in the water and when the water overflows from the hole, all this mixture will flow into our rivers and our fields. So, we need to pay close attention and report quickly when a flare is flooded, otherwise there will be a lot of damage to the nature.
Sometimes, there are also leakages of crude oil, in rivers, in fields…we need to be watchful of that too. First of all, you have to prevent a leak, then the procedure to get repairs for the damage is very complicated and, if you are not careful, a lot of money is lost along the way. So being a network member means that the villagers can call me when they have problems or questions, and I can guide them, since I know the rules and procedures well. We monitor what is going on around us, to protect our fields, our rivers, our nature and our future, for ourselves and so that our children can also benefit from our fertile fields and our rivers full of fish.
Before, I used to defend my community, but I didn't have much knowledge. Thanks to Avocats Sans Frontières and to the training courses offered, we no longer only talk about 'natural resources,' we go further into the subject. I only knew a little about the domain of hydrocarbons, but today I know it well, I understand my rights, and I also understand what is at stake in the forests, rivers and fields…I feel more and more capable of representing and supporting the people of my village, and that makes me happy, for me, for them, for our land.
*Observers' names have been changed in ordre to respect their anonymity.
The overall objective of the project is to contribute to the transparent management of natural resources in accordance with human rights. More specifically, it aims to support the involvement and participation of concerned populations in order to (i) ensure the transparency of natural resource management processes and the fight against corrupt practices and (ii) protect and realise their rights in this framework.

The project contributes to the emergence of the essential conditions for an inclusive, sustainable and human rights-based development. It does so by empowering local populations so that they are fully able to play a role in the natural resource management processes, as well as accompanying them in order to guarantee the protection of their rights.
Photos and interview: Camille Burlet