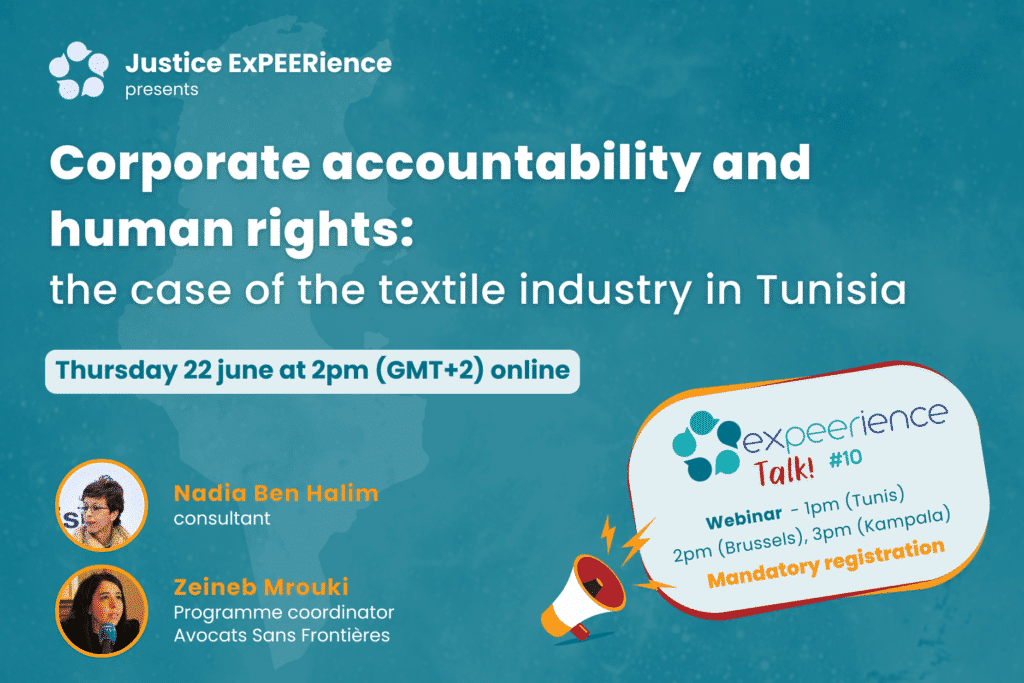 When? 22 June 2023 – 1pm (GMT+1 – Tunis) ; 2pm (GMT+2 – Brussels)
Language of the presentation: French
On Big Blue Button
At the 10th ExPEERience Talk, Nadia Ben Halim (consultant) and Zeineb Mrouki (Programme coordinator at ASF Tunisie) will present a study on corporate responsibility with regard to human rights in the textile sector in the governorate of Monastir in Tunisia.
The textile industry is now worth 3,000 billion dollars and is one of the world's most important economic sectors. In Tunisia, clothing production accounts for a quarter of the country's industrial output in terms of gross domestic product, making it a central sector of the Tunisian economy. However, for years, human rights organisations and official reports have documented systemic violations of workers' rights (undignified working conditions, informal and illegal work, etc.). Among the companies guilty of flagrant violations of workers' rights are many subcontractors of multinational companies. These systematically fail to meet their obligations and apply the duty of care throughout the supply chain, as required by international standards.
The study, based on documentary research, field surveys and, in particular, consultations with women workers in the textile sector in the governorate of Monastir, reveals systematic violations of workers' rights, including the lack of social security cover, unfair dismissals, failure to account for overtime, and discrimination specifically targeting women. Recommendations are made to combat the impunity of companies in the face of the legal violations they commit.
This study is part of the PREVENT – Pour une Responsabilité et une Vigilance des Entreprises project, carried out in collaboration by Avocats Sans Frontières (ASF), the Tunisian Forum for Economic and Social Rights (FTDES) and I Watch. In particular, this project has led to the establishment of a mechanism to provide access to information and legal assistance to those most exposed to violations by industrial companies, particularly in the textile sector.
The study will be published on the ASF website at the end of June. You can already read the policy brief on the ASF website: "Les travailleueur‧euse‧s du textile tunisien en quête de dignité et de justice face à des pratiques abusives et discriminatoires".
Policy Brief: Tunisian textile workers in search of dignity and justice in the face of abusive and discriminatory practices